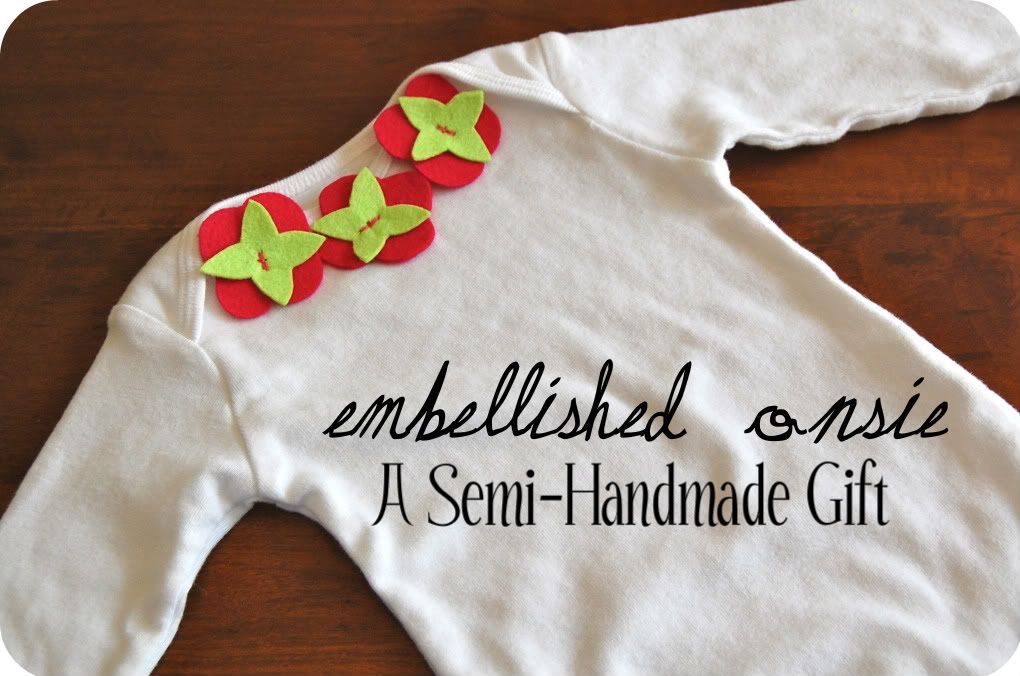 Well, I said I could knock it off and I did. Here it is, one of my most re-pinned pins from Pinterest:
I saw this onsie and headband set one day on Zulilly and immediately knew that I could knock it off for less and that it would make a great semi-handmade baby gift. So if you want to see how I went about "knocking off" this onsie read on!
Materials
onsie(s)
felt (
I used a bamboo/rayon blend felt or use a nicer wool blend felt, but the cheapest completely synthetic felts may not wash well)
thread
needle
scissors
paper
marker or pencil
Now that we have everything we need let's get crafting!
First, I free handed two flowers on paper to be my stencils. (You could probably find some silhouettes online to print out if you prefer perfection.) I did one rounded flower and a smaller pointier flower to lay on top, just like the inspiration onsie.
Next, I cut them out.
In all honesty, I tried out a bunch of sizes, shapes and ideas before settling on these two flower shapes. And the size of flowers you will cut, will depend on the size of onsie you are working with. I was working with a 6 month sized onsie. I chose long sleeves for the November baby that received this onsie.
Back to the process though! Once you've chosen your templates and cut them out, lay them onto your felt, trace and cut out. Make sure to cut inside the line to keep the flowers the right size and to avoid any markings you don't want seen. I went with three rounded pink flowers and three pointy green flowers.
Once I had my flowers cut out, I laid out my pairings to admire my work.
Finally, to finish up this quick project pin your flowers in place on your onsie and then hand sew them in place with a needle and thread.
And there you have it! A super simple project that came out super cute, if I do say so myself.
So here's the cost breakdown of this project: I bought a 4 pack of Carter's long sleeve onsies at Marshall's and spent $16 on nice felt (aye carramba! I know, that was a bit pricier than I had expected but I went to a nice shop in town for a nicer felt and that's what I got and I definitely have way more felt than I need so I'm sure you'll see it pop up in other projects.) In any case, I spent $26 for four onsies that leaves me at $6.50 a onsie and you can probably do them for less if you have felt or get it for less than I did. Also, if you have the time and creativity, I'm sure you can knock off the headbands too all for less than the $24 that Zulilly was charging for the set.
Well, that's all I have for today. I hope that this quick project inspires you to create something fun, simple and thrifty for the babies in your life. Even using this idea as a base for a project, there are so many variations you could come up with so get out, get creative and enjoy.
Happy Monday and thanks for reading!
I'd love to hear from you so drop me a quick line in the comment section below.
Places I'll be sharing.