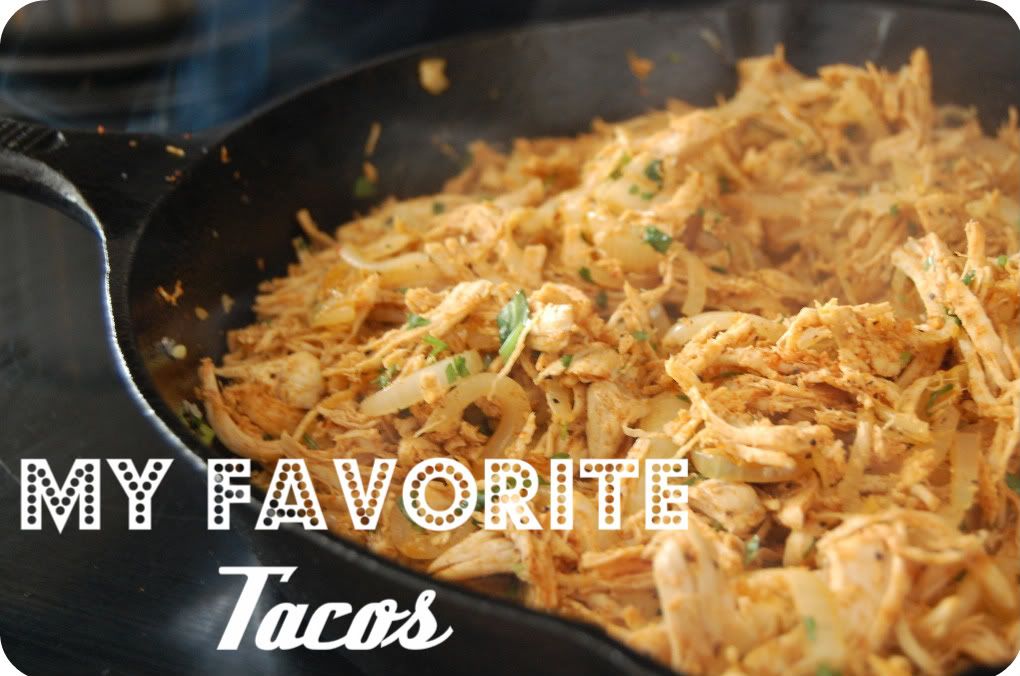 I call these "special occasion" tacos because we make them for friends and special evenings. These are not a typical evening dinner for us because they are a little intensive to make, but so worth the effort. I first had these tacos at friend's house for a large get together, our hostess said that her friend had fallen in love with taco truck tacos and that he had then set out on a mission to recreate them. His taco truck inspired tacos are the recipe I'm going to share with you today. Now poor yourself a margarita or pop a lime in your Corona and let's get cooking!
Taco Truck Inspired Tacos
Ingredients:
-2 full chicken breasts (
if you're using frozen chicken, those are considered half breasts so you'll want 4
)
-4 limes, cut into wedges
-2 garlic cloves, minced
-1 1/2 white onions (
I used yellow and it was fine),
1 sliced and the other half chopped and reserved for a garnish
-cilantro, chopped, one handful for meat and the rest for garnish
-1 tsp garlic powder
-1 tsp onion powder
-1 tablespoon of Montreal Steak Seasoning
-1 tablespoon of paprika
-cayenne pepper to taste
-crushed red pepper flakes to taste
-salsa verde
-sour cream (
I forgot to pick some up, this is an optional garnish. If you choose to pick some up I recommend getting Darigold's Mexican Crema, delish!)
-small corn tortillas
Directions
Place your chicken breasts in a pan and cover them with water and then cover the pan with a lid. Bring the water to a boil and boil the breasts for fifteen to twenty minutes.
When your meat is cooked, remove the chicken from any remaining water and let it cool until it is cool enough to work with.
(Now because I'm slow, while the chicken is cooking
and
cooling I prep my other ingredients: slice and chop the onions, mince the garlic, chop the cilantro, shred the cheese and mix together the dry seasonings.)
Once your meat is cool enough to work with, it's time to shred it. I shred my chicken with two forks like Rachel Ray taught me on Thirty Minute Meals a few years back. Post the meat with one fork and shred by pulling against the grain with the other.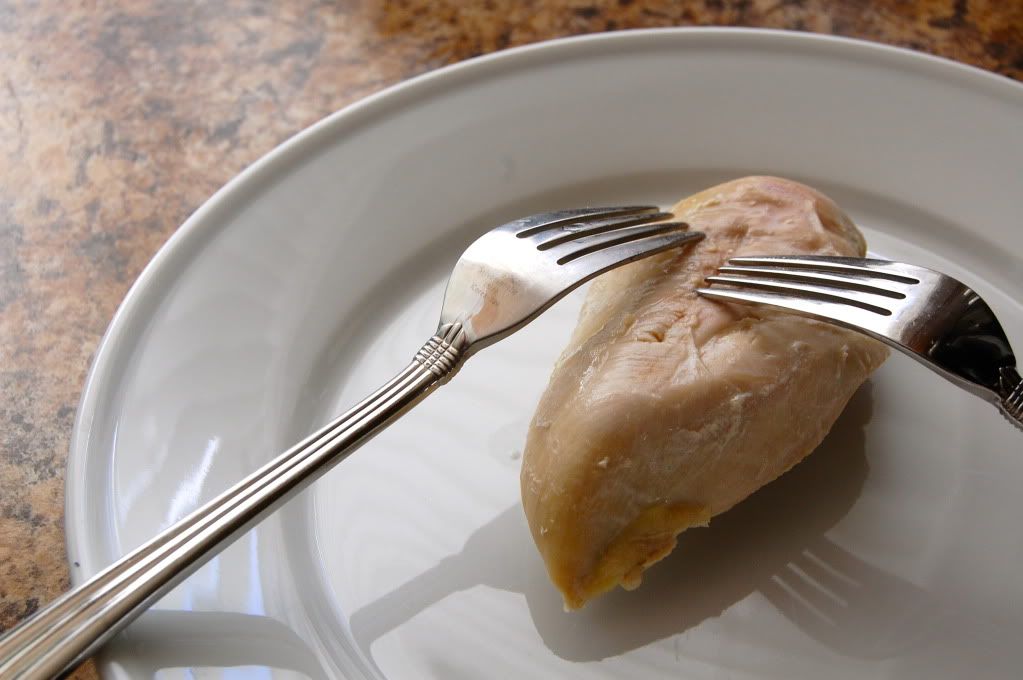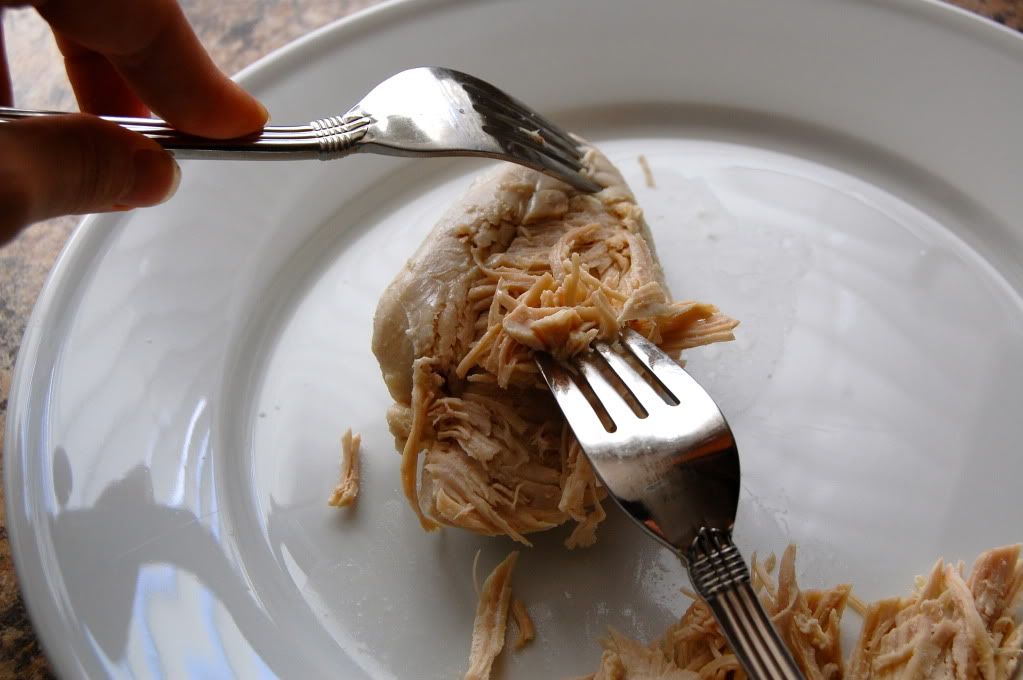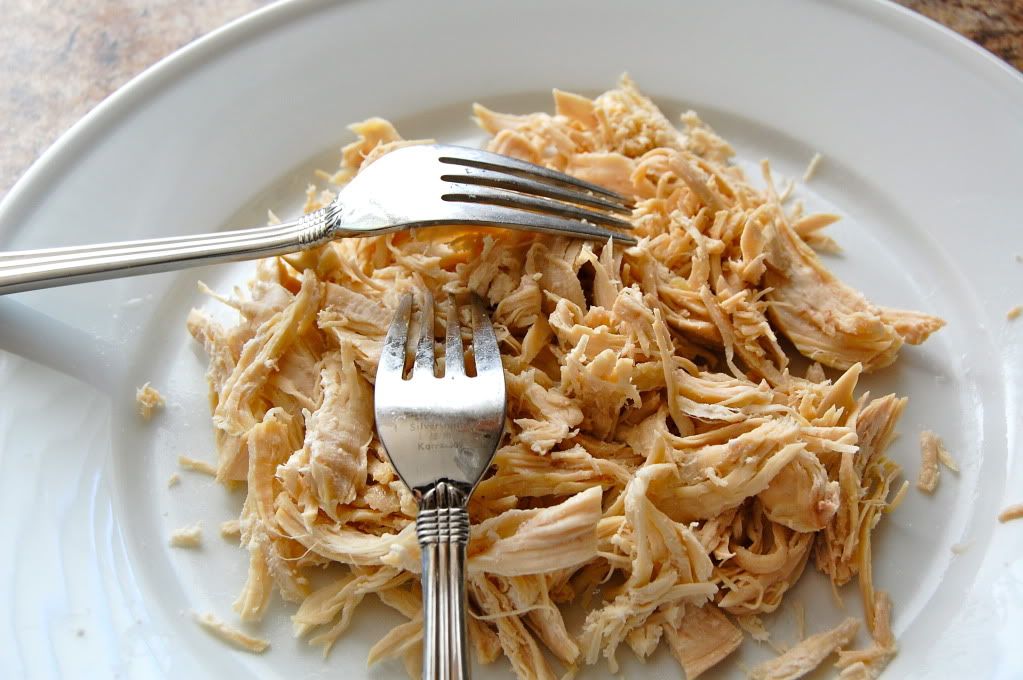 And there you have it shredded chicken in just a few minutes. Now take your combined dry seasoning ingredients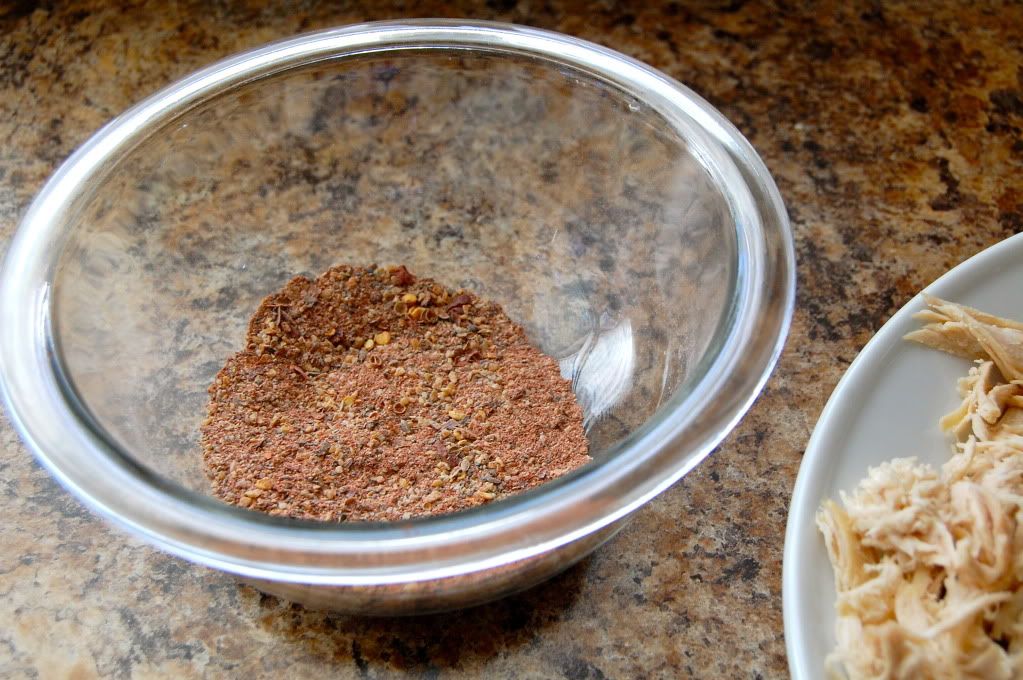 and toss them with your shredded chicken.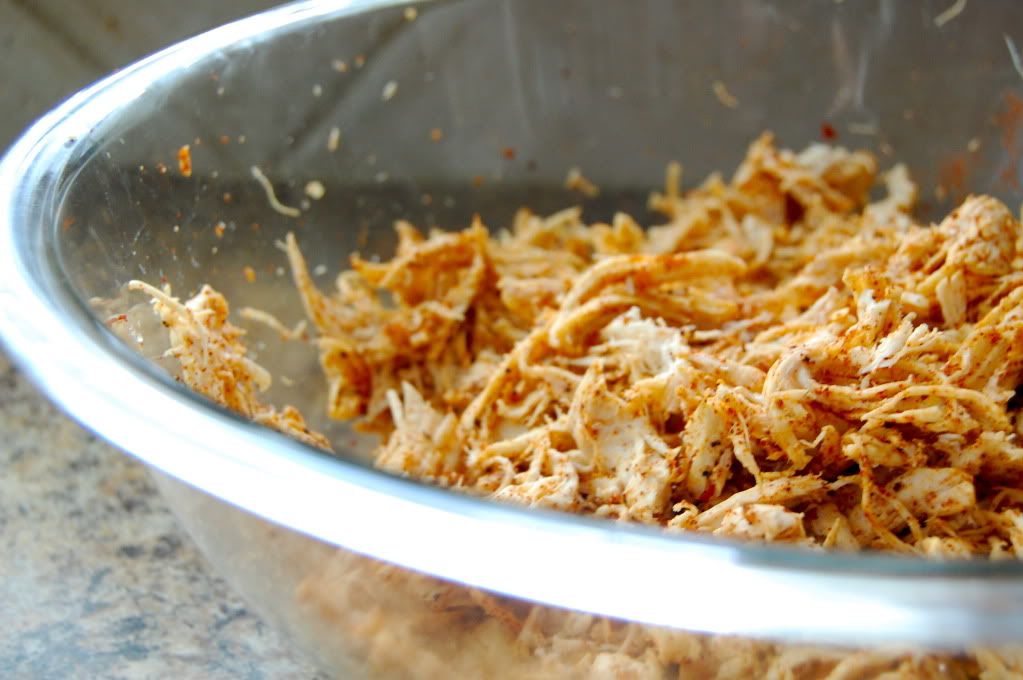 Now when we're hosting we typically prepare up to this point before our guests arrive and then we cover the chicken,
the onions and garlic,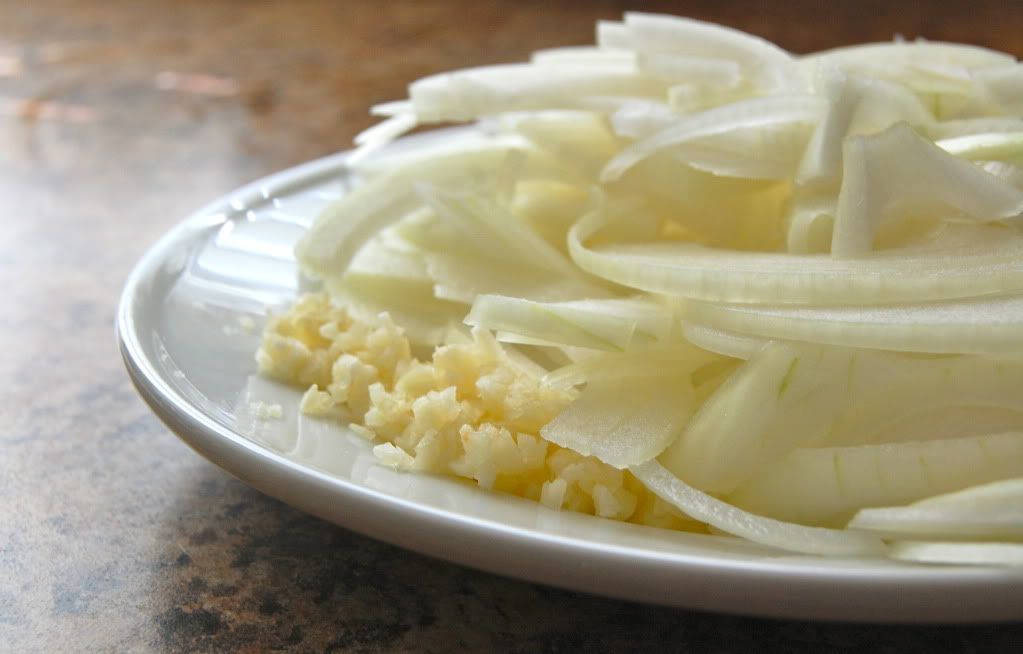 and all of the garnishes and pop them back into the fridge until we're ready to finish the chicken and serve a hot dinner.
If you're not hosting and you have time to cook everything all at once, skip the part where you put everything back in the fridge and keep going.
When you are ready to eat, heat up some olive oil in a skillet and saute the onions and garlic.
Once the onions are soft, add in the chicken mixture and cook for 5-10 minutes until it is heated through. About two minutes before you are through cooking the meat and onions, add a handful of your chopped cilantro to the mix and that's it, your taco filling is done!
Next heat up your tortillas however you like. We typically use a cast iron griddle, but for picture purposes I used a small cast iron skillet last night.
Now load 'er up! Fill a nice warm shell with your chicken and top it with salsa verde, onions, a dash of cheese, a dab of sour cream and a sprinkling of cilantro before squeezing a lime on top of it all. A there you have it, a Taco Truck Inspired Taco.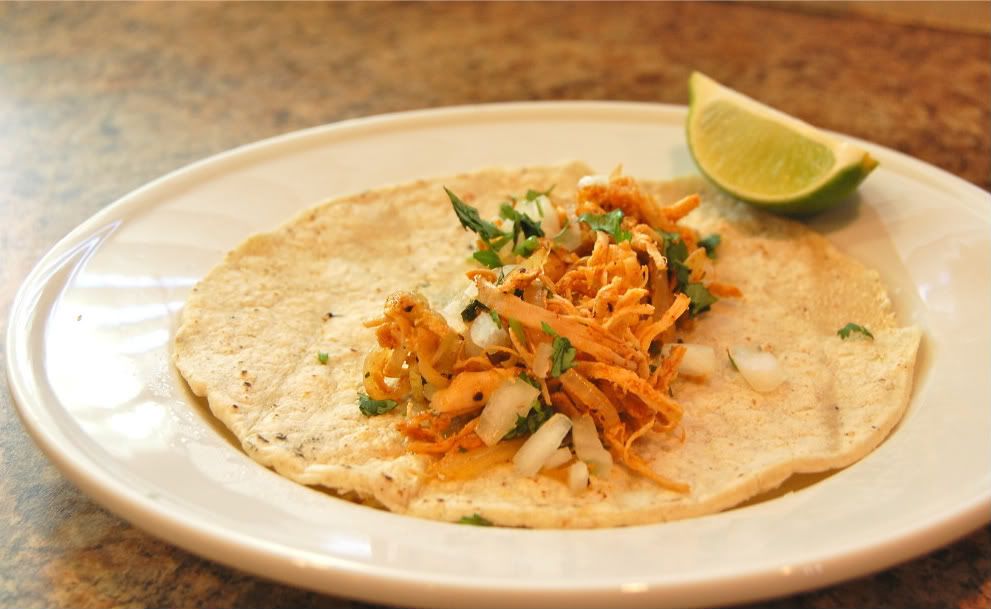 The taco pictured here is sans cheese and sour cream, but still amazingly delicious.
Thanks to Tracie who first served my these Taco Truck Inspired Tacos and to her friend who worked out the delicious recipe. Tacos have never been the same around here, we have "american tacos" and "taco truck tacos" or at least that's what we call them.
Do you have a great take on a common dish? Do share!
Thanks again for reading and have a wonderful day.
I'd love to hear from you so drop a line in the comment section below.