Here it is! Monday again and we're all back to it. I hope that you had a great weekend. I had a fun weekend myself, I didn't get much done but it was fun. I did make it out to the Anacortes Farmer's Market where I got this great idea for fabric ribbon. I wish that I had thought to get the lady who runs the stand's card because she doesn't have any labels on her items and I would love to give her credit for this great idea. So here's to you farmer's market lady; this is your idea but I'm going to share it. Thanks!
Before I tell you how to make your own simple fabric ribbon, let me give you a few ideas of how you may want to use it.
It makes a great sewing embellishment.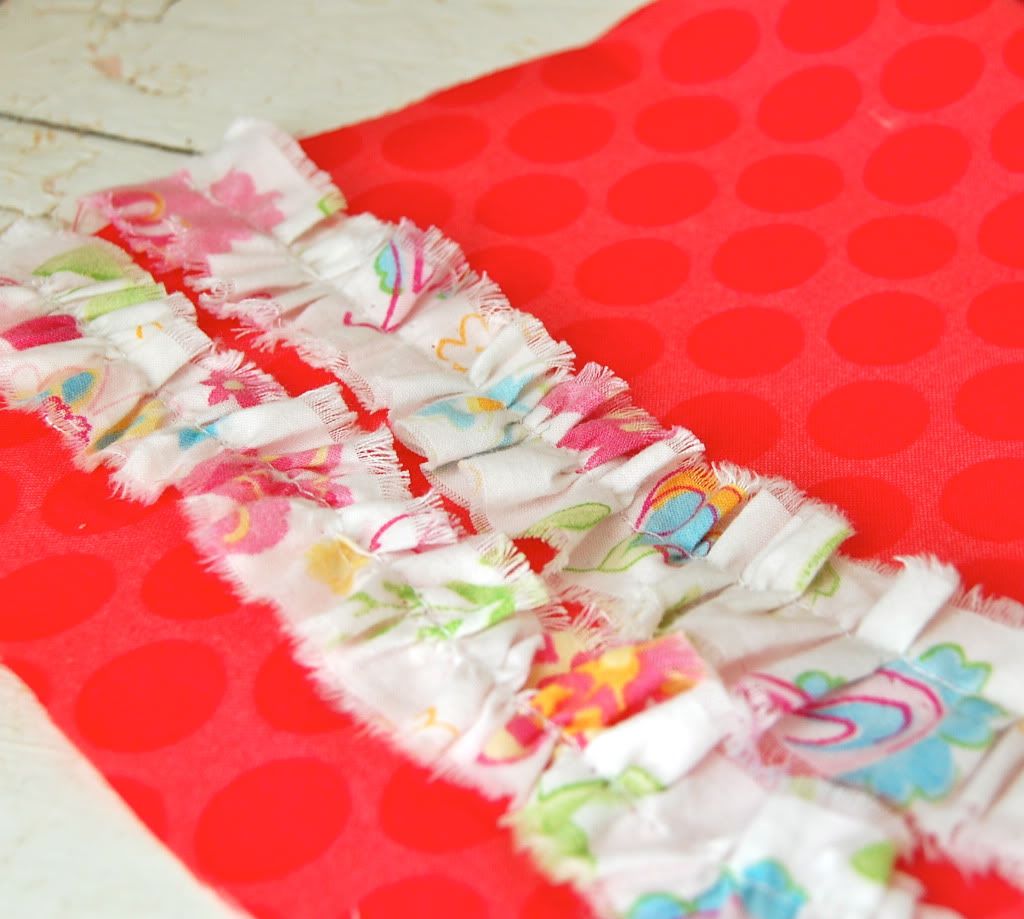 I used it to make ruffles on this
Black Apple Doll
dress. I didn't want to have to sew the edges of the ruffles and I like the look of these unfinished ones. According to the lady at the farmer's market they shouldn't unravel any more or at least much more.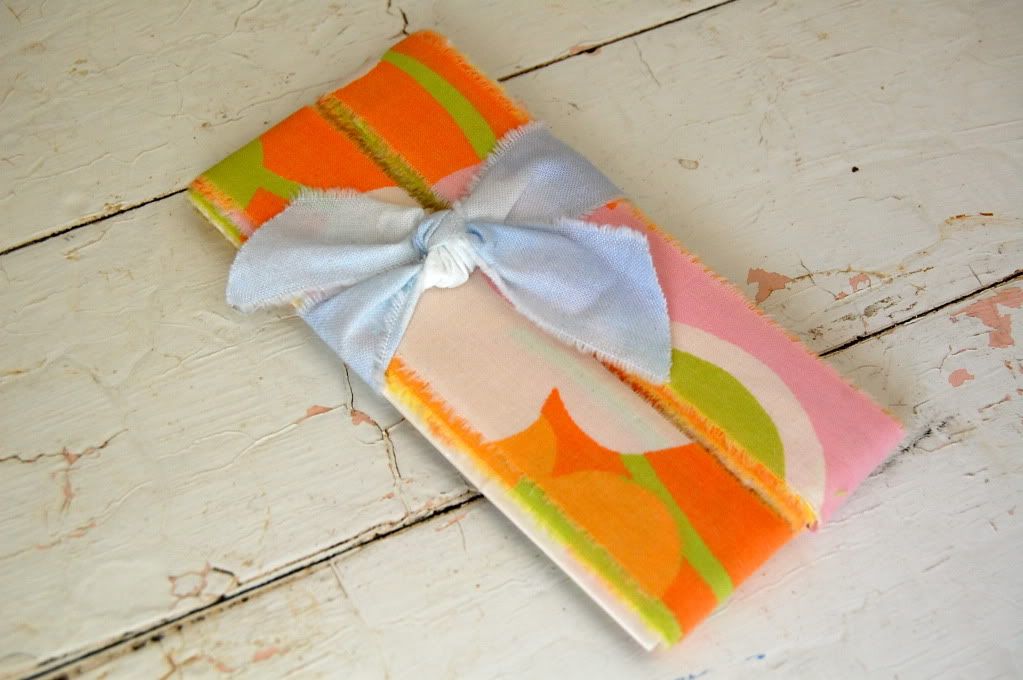 Here is the actual fabric ribbon I bought at the market. In this form, I think that the ribbon could be a nice gift or part of a gift for your friends that sew or craft a lot. Anyone could easily wrap their ribbon around card stock or cardboard and tie it off with a contrasting ribbon. The creator of this ribbon has it anchored into the board with a pin.
Finally, this ribbon is great for decorating your own gifts that you're giving. In the farmer's market stand, the crafter had wrapped a gift with an old map and some of this fabric ribbon.
So have I peeked your interest? Do you want to make your own? Well you can, here's what you'll need and how to do it.
You will need a sheet and scissors for some minor snipping, that's it. Here's my sheet:
You'll want to have it cut or preferably torn so that you are starting with a straight-ish edge. Mine was a fitted sheet so it took a touch of prep around the edges. If you're working with a flat sheet, which would be preferable, just snip through the seems at the corners and tear off all of the sides that are finished. This is preferable to cutting because the finished product will turn out better, I'll show you in a bit.
So now that you have a sheet prepped to tear, cut a snip at one inch intervals to prepare for tearing the sheet into one inch strips.
If you tore your sheet to prep it for "stripping" you may not need to use scissors to begin each strip, but it may be useful to mark the intervals you want to tear at.
Next grab the sheet with one hand and the strip with the other and tear all the way to the other end of the sheet.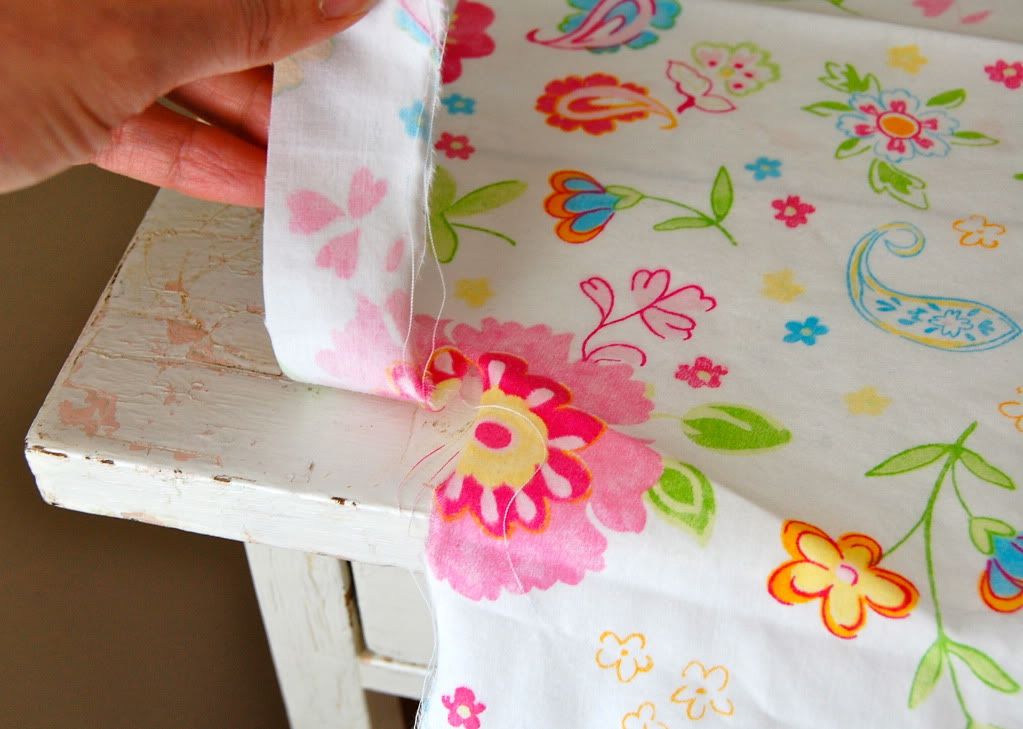 Here's what your strips will look like once you've torn them: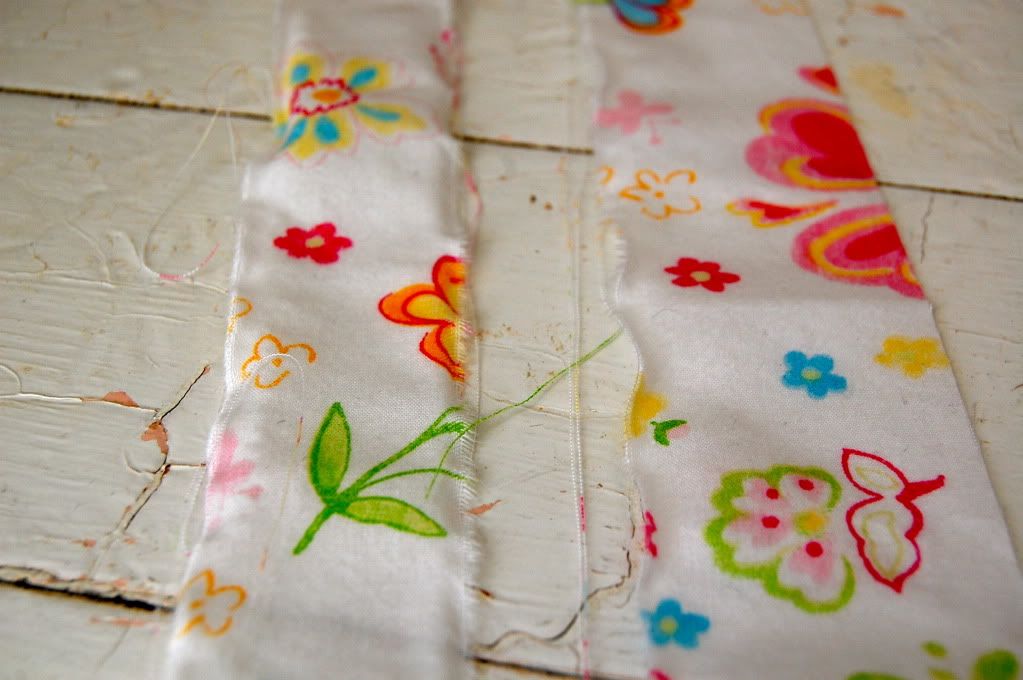 Now you can see a clear difference between my torn edges and my cut edge. The torn edges are easier to stop fraying and they will give you a softer looking finish then the cut edges so it is best to deal with all torn edges if you can. Obviously you can use a cut edge too, I did.
When your sheet is torn into strips finish your ribbons by removing the strings from the edges for a soft, finished fray.
And voila! Fabric ribbon.
So easy and a great way to use those great vintage sheets you pick up at garage sales and thrift stores. Or in my case the nice ones you ruin.
I hope that you enjoy this fun idea as much as I have. Enjoy! And thanks again for reading.
I'd love to hear from you. Please drop me a line in the comment section.
Check out where I share!