Today was a big day for us, P had her preschool orientation. Needless to say, we've been busy and having fun but I wanted to drop in and share a little bit of a "work in progress". So here we go!
A while back I saw this great runner by
Ashley Ann Campbell at Under the Sycamore Tree
:
Click
here
to check out her tutorial if you want to attempt making a runner like I am.
As for me, here is what I have so far: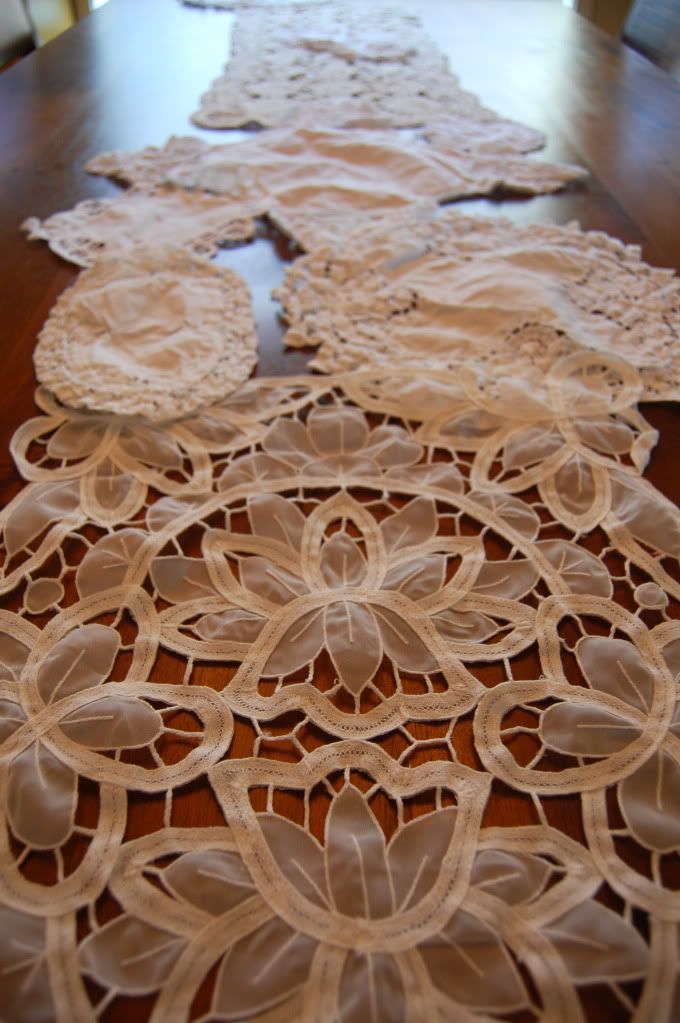 I'm still in the collection phase and I haven't started connecting the doilies yet. But after seeing Ashley's again, I think that I definitely need to get rid of the biggest doily on the right in the picture above. My doily collecting is slow going though. In fact, the big doily that isn't going to work is the only one I've bought; my girlfriend Bug picked the rest up for me at a garage sale. So far, between Bug and me, $3 has been spent. My goal is to keep this project cheap. Any ideas on where to doily hunt, on the cheap, in Oly?
Well that's all I've got for today. I've had this project on my mind for a long time now and I thought that I'd share. Maybe you have some doilies to repurpose for your own runner, or better yet that you want to contribute to mine (insert wink-y smile here). Oh! And if you want to keep up with what's inspiring me out on the internet follow my Pinterest boards, the button is on the upper right sidebar here.
I hope that you're having a great Thursday and a fun back to school week. We're definitely enjoying the sun here in Oly.
PS - If you haven't checked out
Ashley Ann Campbell's Under The Sycamore
blog, I highly recommend it. It's gorgeous, well written and full of great ideas and inspiration; it's one of my favs.
I'd love to hear any comments, thoughts, ideas or opinions you have. Please share in the comment section below.