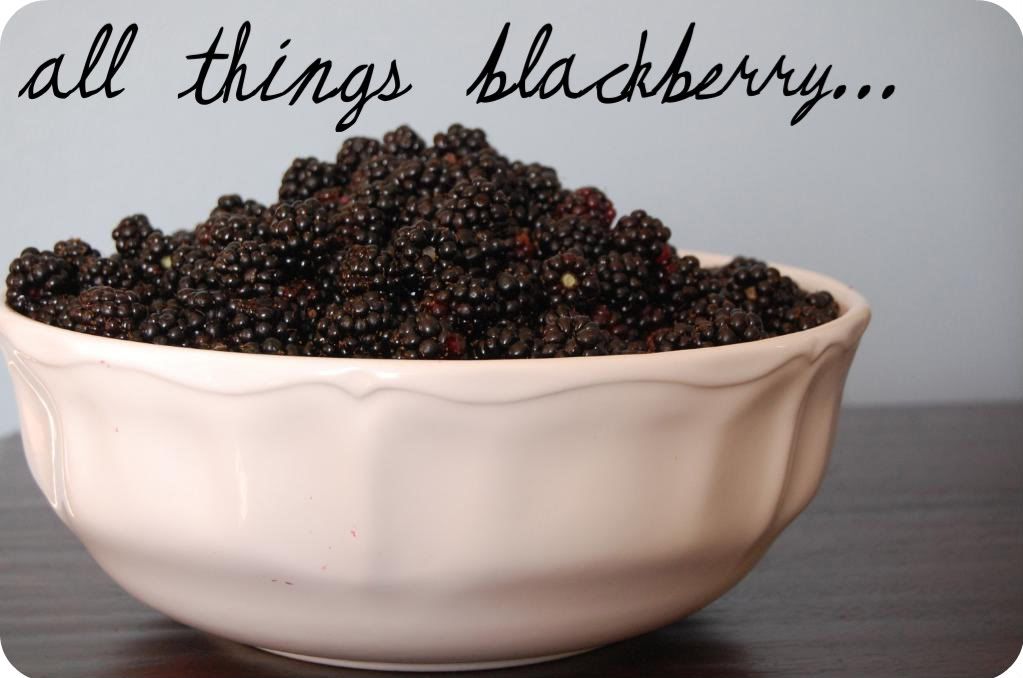 Blackberry season is upon us! Here in the northwest blackberries abound in overgrown yards, on paths, roadsides... they're really easy to find and even more important, free. Well, I take that back; some sweat and a little blood may be required to pick them but they won't cost you any money. We have blackberry bushes just down the road growing on the path Kyle runs on and the dead end street that leads up to it. Kyle and the girls had been checking to see if the berries were ripe for weeks at the end of their runs; finally, about a week or two ago Phoebe proudly announced to me that the blackberries were ready to eat after a run with dad. So we had to get out and get picking.
We finally made it out for an hour or so of picking this past Sunday afternoon.
Fun and plenty of berries were had by everyone. The girls must have packed a good half pound of berries away in their tummies before we headed home. As for mom and dad, it was hot and prickly work but the bounty was definitely plentiful - 10 lbs of blackberries!

When going blackberry picking I recommend work gloves, leather preferably, for picking and rain or work boots for stomping down the over grown lower vines that try to keep you from the ripe berries just out of reach. Also, you'll want to wear clothes that you don't care if they get torn because the thorns will grab your clothes or stained because you might get some berry juice on you.

Now with 10lbs of fresh blackberries I had to get to work figuring out how to use them before they went bad. Here are the ways that we've taken care of all of our blackberries: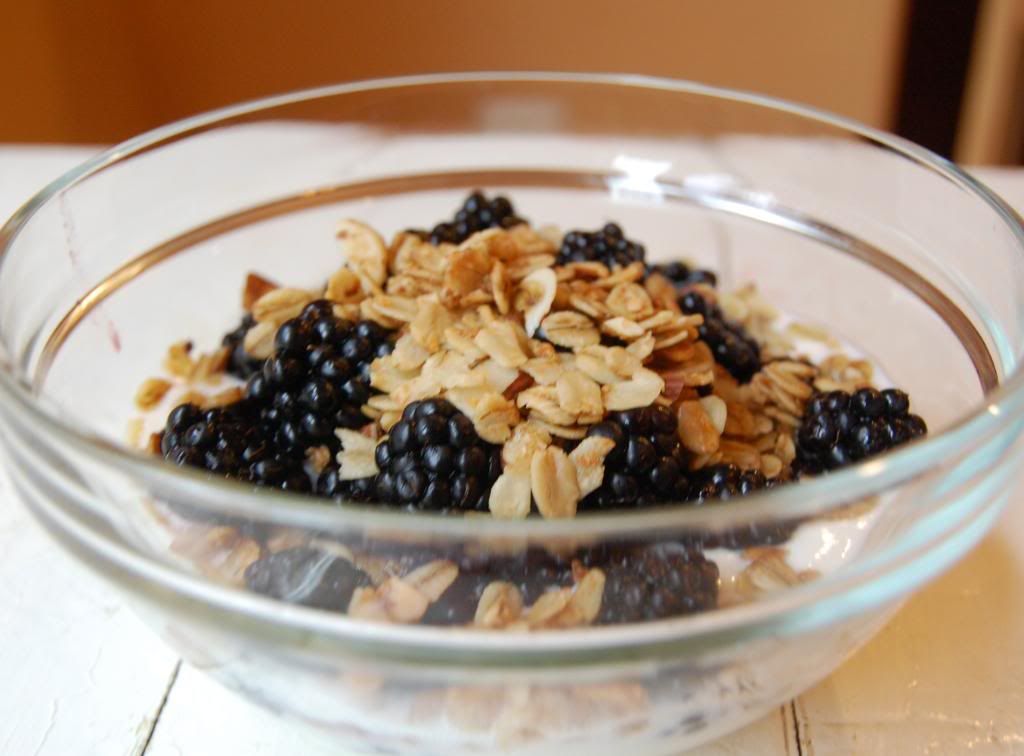 Eat them fresh!
Above you see the fresh blackberries I had with my
homemade yogurt
and
granola
on Monday morning for breakfast. The girls also love to eat them by the handful.
Jam!
I made two batches of blackberry jam Sunday night. I now have 18 half pint jars to eat and give away, I love giving homemade jam as a little gift. I made my blackberry jam with the same exact recipe as my
strawberry jam
(substituting the blackberries for the strawberries in the recipe), so click on over to that post for the recipe and instructions for canning your own jam.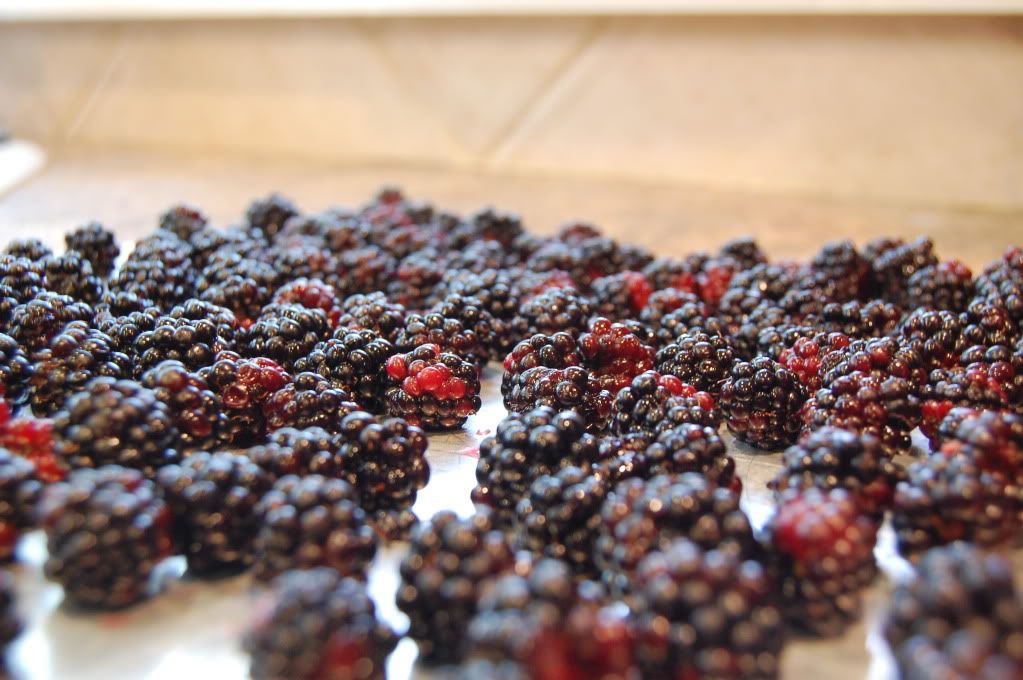 Freeze 'em!
When you can't eat them fresh, frozen is the next best thing. Now when blackberries are out of season we'll have some for smoothies, yogurt, pancakes, muffins, blackberry sauce, etc. Freezing them was super easy, you just rinse, drain well, lay in a single layer on a cookie sheet and freeze. I returned to my berries after freezing them for 24 hours and then slipped them in to a freezer bag. Here is the link to where I got all the details on freezing my berries:
How to Freeze Your Own Berries!
. The one thing that I would add to their instructions is: use a towel or pot holder to get your cookie sheet(s) out of the freezer because man were they painfully cold.
Blackberry Sauce!
This was a delicious surprise. Instead of making a cobbler or a crumble I decided to "
K.I.S. it
" and make a simple sauce that we've enjoyed over homemade ice cream and waffles. I'm sure that you can find many other ways to enjoy this yummy treat too. Here is the link to the simple and easy recipe I used from Bon Apetit:
Blackberry Sauce
. Obviously in this case I substituted fresh blackberries for their recommended frozen.
So there you have it! The four ways we've preserved or devoured our blackberries this week. Now to get out blueberry picking before they're all gone...
How do you like your berries? Share with us how you preserve or cook up your seasonal berries in the comment section below.
As always, thanks for reading!
Shared on: