We had a great weekend camping, unfortunately I forgot my camera. I always seem to forget my camera when we go camping, I forgot it on Phoebe's first camping trip too. Oh well, what can you do? So instead of sharing our fun weekend with you, I'll share the yummy Daddy Bread (that's what we call our homemade whole wheat bread because daddy normally makes it) we made this morning. So here we go, daddy's recipe and all!
Ingredients
1 3/4 c water
3 Tbsp butter
1/3 c honey (replace with brown sugar or other liquid sweetener if you have an infant under 12 mths)
1 1/4 tsp salt
2 1/4 tsp yeast
4 1/2 c flour (approximately and whatever kind you want all whole wheat or a mixture of whole wheat and all purpose or bread flour)
Directions
On the stove warm up the water, butter, honey and salt to between 115-130 degrees. If you don't have a thermometer (not necessary) it should be warm to the touch but not hot, you don't want to kill the yeast. It will not take long to get it to this temperature. I overheated mine this morning and had to cool it down, that's why I used a thermometer.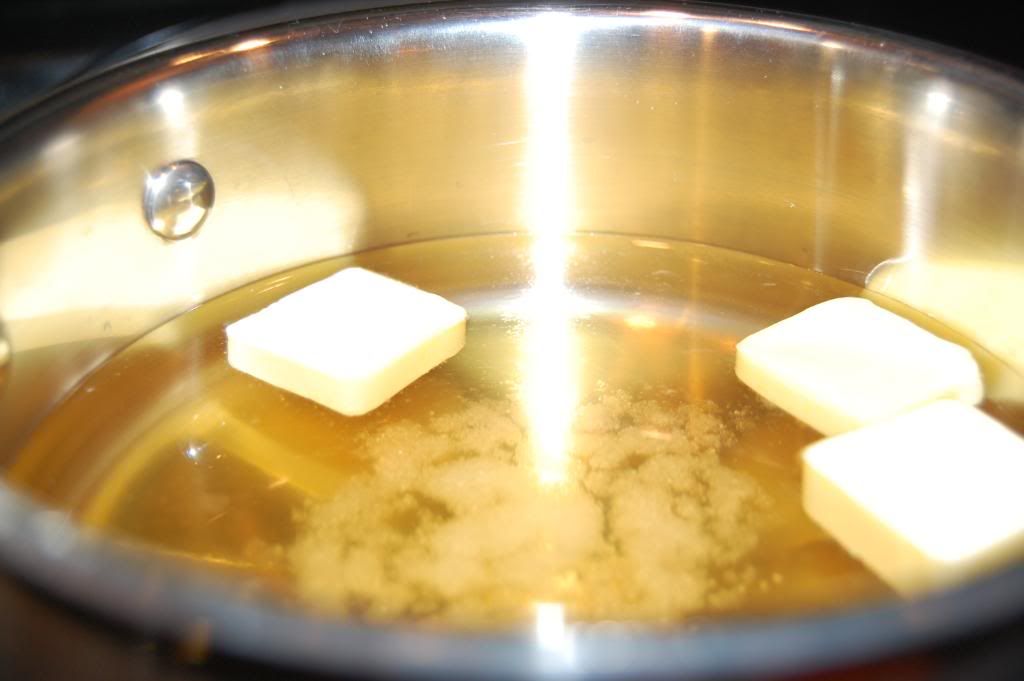 Meanwhile, in the mixing bowl of your stand mixer combine 2 c flour (I used one cup bread flour and then whole wheat flour for the rest of the recipe today) and the yeast.
After your liquid is heated, add it to the dry mixture and mix with the paddle attacment until all of the ingredients are moistened.
Continue to add flour until the dough pulls away from the sides of the bowl. This will most likely happen at about four cups of flour total.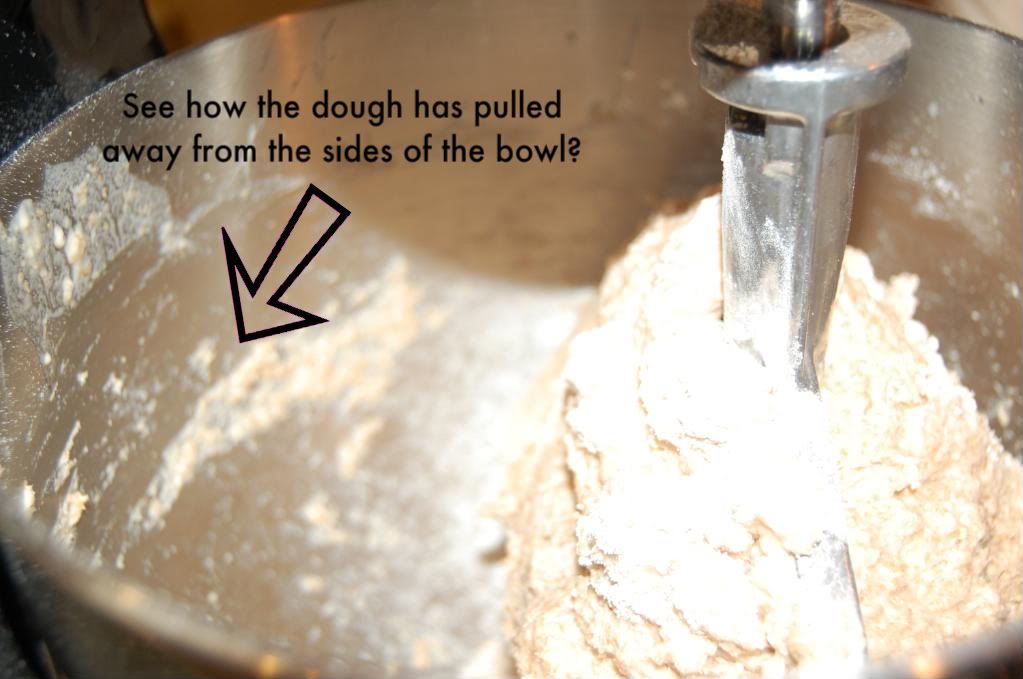 At this point, switch to your dough hook attachment. Continue to add flour until a slightly sticky ball of dough is formed. This will only take about a half cup more of flour for a total of 4 1/2 cups of flour.
At this point stop mixing. Remove the dough from the bowl. Lightly grease the bowl and return the ball of dough to the bowl and cover it with a towel to rise for 90 minutes. I let mine rise in the oven with the light on and a bowl of warm water underneath to create an optimal warm and moist environment.
After 90 minutes, the dough should be double in size.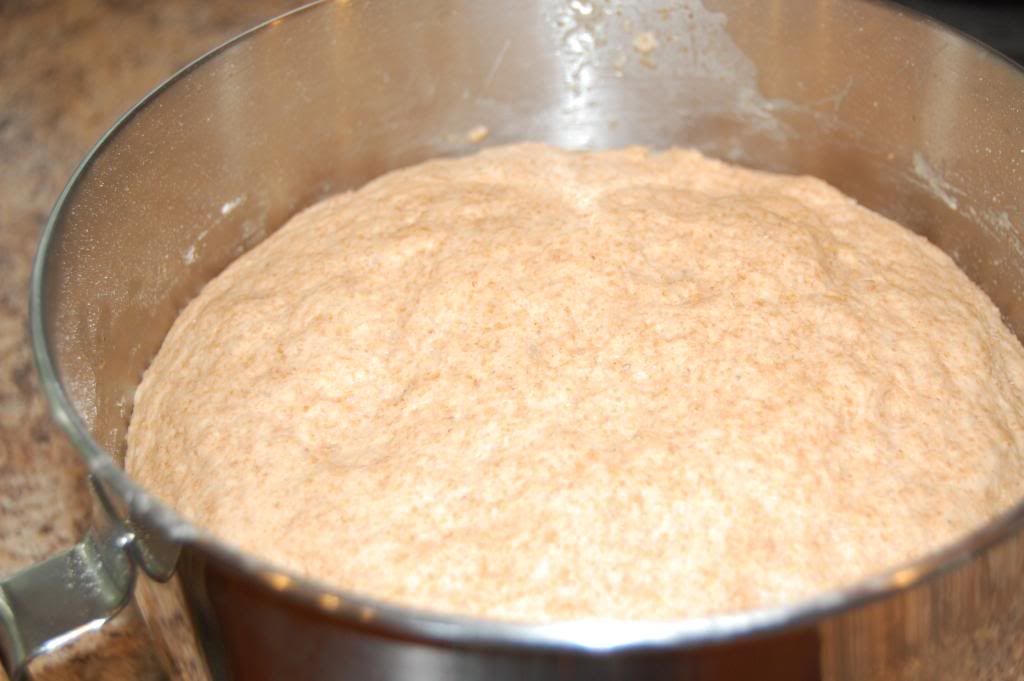 Remove it from the bowl to a lightly floured surface, punch the air out and form it into a loaf.
Place the dough in a lightly greased loaf pan.
Now, lightly cover the loaf with greased plastic wrap and let it rise for another 30 minutes while preheating your oven to 375 degrees. When your loaf is 1" or so above the lip of the bread pan it has risen sufficiently to bake, this happened in only ten minutes for me today. I let the bread rise for 20 minutes though and got this large loaf:
Place the risen loaf in the oven and bake it for 30 minutes. At 30 minutes cover it with foil and bake for another 5-10 minutes depending on how large your loaf is. I baked mine for a total of 40 minutes today for this lovely, and large, loaf of bread: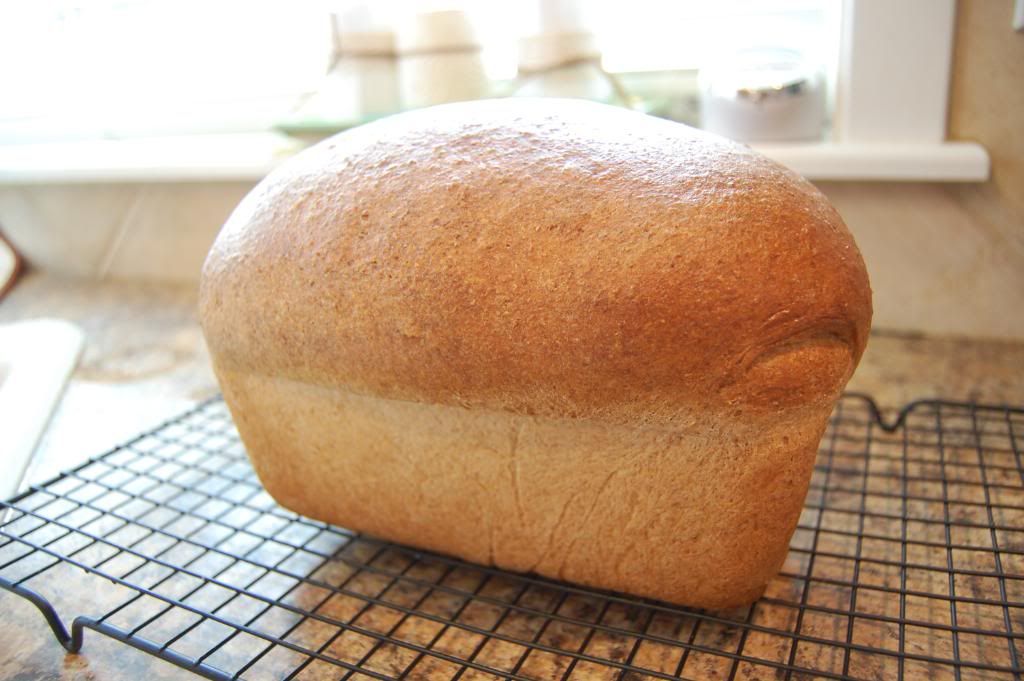 The best part about Daddy Bread is how much the girls love it. They can't wait to eat it.
Nom, nom.
We hope that you had a great weekend and a wonderful morning! See you tomorrow.
Places I've Linked Up: